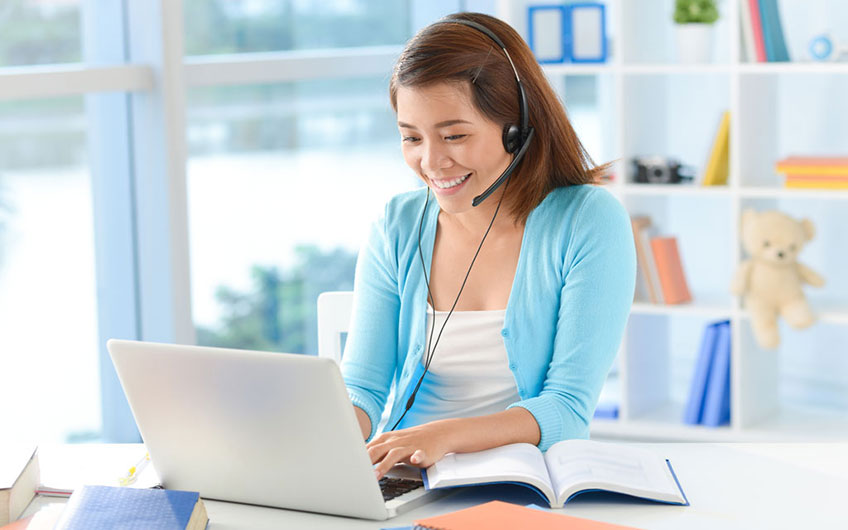 Online courses – Telephone and Skype
Language Link provides online English language courses to both individual students and groups all over the world with fully-qualified native teachers/trainers. Our students have complete access to their own native speaker without leaving their own home or office. By taking private or group lessons with one of our highly experienced native teachers, your English language skills, particularly in speaking and listening, will quickly improve.

Our online courses give you the flexibility to study where you like and when you like and help you develop the confidence you need in all areas of English language skills. The different types of courses we provide are:
General  English
Business Training
Exam preparation
Skype lessons
You can take lessons when you want and for the length of time that you prefer. You will receive feedback after each lesson and this will be sent directly to your email within 24 hours of the lesson. We can promise a very professional service with the highest standards of English language learning. A standard lesson consists of 30 minutes or 60 minutes and the highest academic and professional standards are adhered to. All our programs are designed individually to suit the needs of our students.

After completion of your English language course, you will receive a certificate from 'Language Link', which also gives an indication of your level of English according to the CEFR (Common European Framework of Reference for languages). We also prepare students for international exams.
How it works
Contact us with an outline of your objectives. You may want to work on your speaking and/or writing for a number of reasons:
work related (conference calls, emails, reports, etc.)
academic work (assignments, essays, etc.)
exam related (FCE, BCE, CPE, IELTS, etc.)
any other reason
We will contact you to arrange your first lesson and review your objectives and level. This gives us a clear idea of your strengths and weaknesses in English, so we can work on them together. We will devise a completely individualised learning programme that allows you to achieve your objectives.
30/60 – minute lesson with a qualified native teacher/trainer using Skype or telephone
E-mail before each lesson with focus point/objective
Follow up e-mail after each lesson with feedback and material
Highly experienced and dynamic teachers/trainers
All skills – Speaking, listening, reading and writing
Tailor-made courses
Flexibility to fit your schedule

We are flexible and adaptable with regards to schedule and understand that changes sometimes need to be made.

Highly-qualified and experienced native teachers/trainers

Our staff are all fully-qualified and have substantial experience of online teaching. Apart from being native English speakers, they have all lived abroad and are very familiar with teaching different nationalities.

Teachers/trainers with different accents

You can have lessons with native speakers from Ireland, the UK, Scotland, the US, etc. to practise accent comprehension.

A dynamic approach to learning

We present interesting and stimulating lessons with a wealth of supplementary materials to aid the learning process.

A personalised approach and attention for each individual student/trainee

Each student has a different and individual way of learning and, therefore, a teacher needs to be aware of this. Our highly experienced teachers have perfected the ability to provide this in a way that encourages the best from the student and this, in turn, yields better results.

Full-time e-mail support

Apart from sending material to review before a lesson and the feedback afterwards, we are available for any questions or advice at any time. This support consists of personal emails and not standard replies. This access is unlimited.

Tailor-made courses 

Each and every course is created to suit the needs of the student/students using a needs analysis to start. The objectives are set using the input of the students. We take time to design the most suitable course taking all aspects into consideration.
E-learning
E-learning is an online education centre which supports your learning and helps you to make the most of your language skills. We offer students access to our E-learning platform.
Advantages of e-learning
A flexible self-study programme
The freedom to access material and practice activities wherever and whenever
Language learners can continue self-study during or after completion of another course
Language learners can improve specific areas of their reading, listening or grammar
Learners can truly maximise their language learning